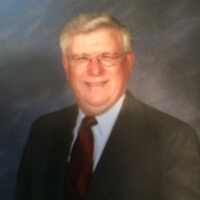 James Leichliter, Pastor
work: 814-432-3312
Email: franklincggc@verizon.net
James R. Leichliter, Pastor Jim, was born in Uniontown, PA on June 28, 1950. After a few days he joined his brother and sister and parents on the family farm near McClellandtown, where he lived through his high school years. Three years later another sister was added to the family.
During high school, he began to learn electronics and continued the education for another year at Electronics Institutes in Pittsburgh, PA. Upon graduation, Bethlehem Steel Company hired Jim as an electronic repairman in their newly constructed steel plant at Burns Harbor, Indiana. He accepted the offer and moved five hundred miles away from family, friends, and a special girl he had been dating since high school graduation.
The travelling from Indiana to Pennsylvania every month to see that girl convinced him to ask her to marry him. Jim and Pamela were married on August 1, 1970. They lived in Valparaiso, Indiana for fourteen years. Their oldest daughter, Amy, and son, Matthew, were born in Valparaiso and their second daughter, Tia, was added to the family also. Rebekka was born after the family moved to Fort Wayne, Indiana.
Pastor Jim and family responded to God's call to pastor a church when in 1984 they moved from northwest Indiana to northeast Indiana. Jim served God as the pastor of Fairview Church of God until 1993. During those nine years Jim earned his degrees from Summit Christian College and Huntington College Graduate School of Christian Ministries. In 1992 the Indiana Conference of the Churches of God, General Conference granted Pastor Jim an ordination.
In 1993 Pastor Jim was called to pastor the Carrollton Church of God in Finksburg, Maryland. The ministry there concluded with a call to pastor the Boiling Springs Church of God in Decatur, Illinois in 1998.
From 2001 – 2004 Jim returned to his electronics knowledge being employed by Trinity Industries and Decatur Electronics.
Garrett became Pastor Jim's first grandchild in February 2004. Kira became his granddaughter in 2004 and Ian his grandson in 2007.
God called Pastor Jim to pastor the First Church of God, Franklin, PA in 2004. Returning to Pennsylvania is a goal achieved which enables the family to be closer. Returning to the pastorate is an act of blessing from God.
Pastor Jim's desire is to serve the Lord always and where He directs. He is happiest when ministering as a pastor, preaching and teaching the bible.